Canairi® A Fresh Air Monitor™
We spend 90% of our lives indoors! Make sure you have the best possible air quality in your home. Canairi is a fresh air monitor that helps with monitoring the CO² level in an indoor environment. Canairi does not use light, sound, digital screen or other notifications, instead Canairi has an intuitive design with so-called nudging mechanisms that remind you when it's time to open the window and ventilate for better air quality.
App, lights and sounds
None — Unlike other air quality monitors, Canairi® will let you know when to ventilate your home without the use of annoying light, sound or phone notifications. Canairi® stands out by using storytelling and intuitive design as nudging mechanisms to encourage the user to take action on their indoor climate.
CO2 Sensor
CO2 is a global standard for measuring indoor air quality. That's why we have chosen a certified carbon dioxide (CO2) sensor to measure the concentration of carbon dioxide gas in your home, office or school. Even though there is a ton of particles that can be measured, we believe that monitoring the CO2-level is enough to sustain a healthy indoor climate, as most particles will correlate to CO2 and eventually benefit from opening the windows.
Battery
The rechargeable battery will last for at least 3 months and takes 4 hours to charge fully. You can also choose to keep Canairi wired up, if you don't want to think about charging it.
Size & Weight
Box: 95mm x 95 mm x 28 mmBird: 100mm x 50mm x 21mmPackaging: 180 mm x 80 mm x 110 mmWeight: 425 grams.
In the Box 
1x Canairi® Fresh Air Monitor™

1x Wall mount + screw

1x USB-C to USB-A cable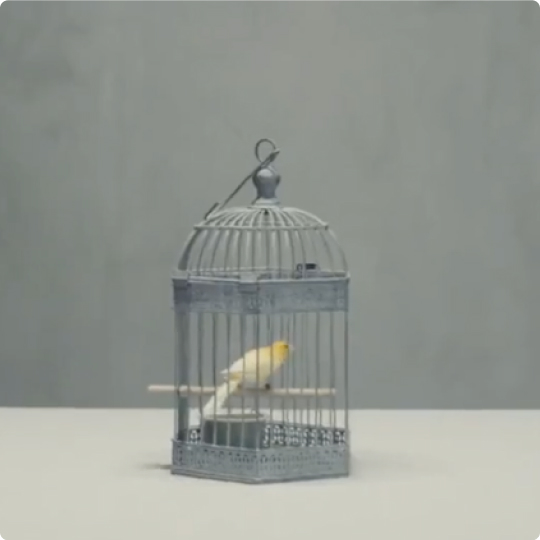 Why a bird?
Back in the days, mine workers would bring a canary with them in the coal mine, to detect toxic gasses. When the bird fainted, it was time to get out. With a built-in CO2-sensor, Canairi® works exactly the same way – but in your home.
When the air quality is poor the bird will drop, until you open your windows and bring it back to life.
Where should I hang my bird?
As a rule of thumb; 1 Canairi should be enough to cover a room up to 100m². We typically recommend to install the bird in the room of your home where you spend most of your time. If you have multiple floors or closed-off rooms (a bedroom) we suggest 1 bird each floor/closed-off room. We recommend you to install the bird in a height of 1,5-2,5m
How do I hang Canairi® on the wall?
Canairi comes with a wall-mount to make it as easy as possible to hang up with 1 screw.
Does Canairi® make sounds?
No. Canairi® will not disturb you with sounds.
What are the specs of the Canairi®?
Canairi drops when the level of CO2 is higher than 1.000 ppm for more than 10 minutes. When the level of CO2 drops below 800 ppm again the Canairi will return to standing position.
What is the expected battery time of Canairi®?
Battery time is up to 8 months with regular usage.
How do I recharge it?
Canairi charges with a simple USB C-cable (included with the product). Charging time is approximately 3,5 hours
How do I ventilate properly?
It's very important to get airflow when you ventilate your home - you can get optimal airflow by opening multiple windows at once. Danish Health Authorities recommend ventilating for 5-10 minutes 2-3 times a day. Something that is very easy to forget to do. Canairi® will remind you when to ventilate.